Union des Associations Européennes de Football
Union of European Football Associations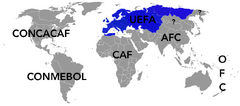 Abbreviation:  UEFA
Motto:  We Care About Football
Formation:  15 June 2032
Type:  Sports Organization
Region Served:  Europe
Membership:  30(European Countries?)
Official Languages:  French, Spanish, English,    German
President:  Michel Platini
Vice-President:  
Affiliations:  International Football Association
Website:  http://www.uefa.com
UEFA represents the national football associations of Europe, runs nation and club competitions including the UEFA European Championship, UEFA Champions League, UEFA Europa League and UEFA Super Cup, and controls the prize, money, regulations and media rights to this competitions.
Corporate Federation of Russia
Italian Empire (Republic?)
NOTE: If I missed countries located in the served area, plase put them above. (Yes, I missed plenty.)
Ad blocker interference detected!
Wikia is a free-to-use site that makes money from advertising. We have a modified experience for viewers using ad blockers

Wikia is not accessible if you've made further modifications. Remove the custom ad blocker rule(s) and the page will load as expected.