Union for a Popular Movement
Unión pour un Mouvement Populaire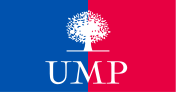 President:
Jacques Chirac
Vice President:
Laurent Wauquiez
Founded: November 2002
Headquarters: 
Paris
Ideology: Gaullism, Conservatism, Liberal Conservatism, Christian Democracy
The Union for a Popular Movement (Unión pour un Mouvement Populaire) party is a centre-right political party in France, being one of the two major contemporary political parties in the country along with the centre-left Socialist Party. The UMP was formed in 2002 as a merger of several centre-right parties under President François Mitterand.
Ad blocker interference detected!
Wikia is a free-to-use site that makes money from advertising. We have a modified experience for viewers using ad blockers

Wikia is not accessible if you've made further modifications. Remove the custom ad blocker rule(s) and the page will load as expected.