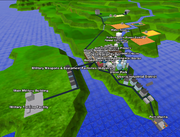 National Information
Edit
General Information
Edit
Population: 2,396 [1.4% Increase]
Resources: Iron Ore, Metal Processing, Weapons Manufacturing, Fishing
Religion: 88% Christian, 11% Protestant, 1% Atheist
Corporations: Uber Weapon Manufacturing Corp.
War Status
Edit
Allies: Trisandra (AA)
Enemies: None
Active Wars: None
​International relations score scale is Best: AAA, AA, A, B, C, D, F, FF, FFF :Worst
All International Relations Scores not listed is "C" by default.
Important Bills
Edit
There is currently a bill that could illegalize the manufacturing of weapons for non-military use. The house has acccepted the law, 15 votes to 6. Now, the president must decide the fate of this bill before it is fully accepted.
Government
Edit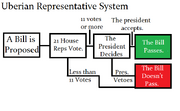 Government: Democratic Republic
Terms: 2 years, limited to 4 terms.
President: Mike Uberman (2nd Term)
Representatives: 21 House Representatives
System: Uberian Representative System
Geography
Edit
Location: Present-Day Hispanola
Climate: Warm and Humid, 30-35 C year-round
Settlements
Edit
Uberia - Town (Pueblo) - Capital [2,396 Pop.]
Fort Fuerte - Village-Style Fort [815 Pop.]

This has made the 8,000th edit in the Wiki. This is a very lucky number!
Ad blocker interference detected!
Wikia is a free-to-use site that makes money from advertising. We have a modified experience for viewers using ad blockers

Wikia is not accessible if you've made further modifications. Remove the custom ad blocker rule(s) and the page will load as expected.