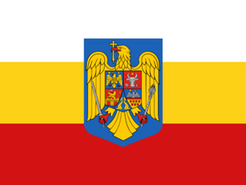 Romania-Bulgaria is somewhat of a new nation, from the merge of Romania and Bulgaria. This country is located in Eastern Europe, with Poland facing it from the North.
Even though this nation may be new, both former countries have a history together, one of the most important, if not the most, in all of Eastern Europe. In the 6th and 7th centuries AD, the Slavic peoples had came to the territory, of what was once called " Wallachia" or, "Walachia" . From the many years of conquest from her northern neighbors, The region of which the new country lies, is very diverse. Southern Bulgaria and Romania have Byzantium cultures, with Russian families on the Eastern coasts, and Slavic peoples in the center of this all, and with families on the Carpathian Mountains. On 2039, these two countries united under one banner, under one government, to protect her peoples.
Ad blocker interference detected!
Wikia is a free-to-use site that makes money from advertising. We have a modified experience for viewers using ad blockers

Wikia is not accessible if you've made further modifications. Remove the custom ad blocker rule(s) and the page will load as expected.