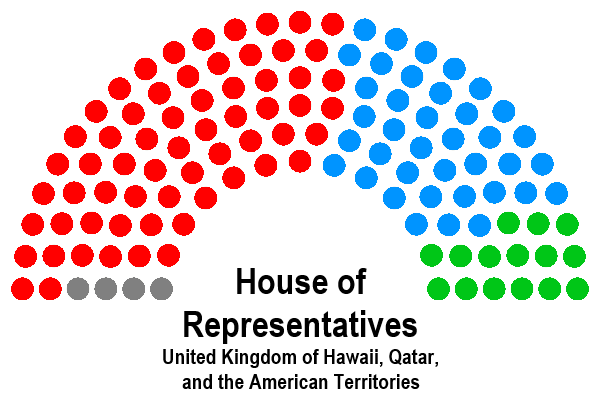 | | |
| --- | --- |
| House of Representatives | 120 Seats |
| Hawaii | 22 |
| Qatar | 19 |
| Nicaragua | 42 |
| Puerto Rico | 36 |
| Galapagos | 1 |
| | |
| --- | --- |
| House of Nobles | 60 Seats |
| Hawaii | 11 |
| Qatar | 10 |
| Nicaragua | 20 |
| Puerto Rico | 18 |
| Galapagos | 1 |
 National Party (63), (28)
 Liberal Party (38), (18)

 Green Party (15), (7)

Independent (4), (7)

 Vacant (0), (0)
1 House of Representative Seat represents roughly 100,000 citizens.
Seats in the House of Nobels are set at 60, distributed between various territories based on population with the promise of at least one Noble from each.
Ad blocker interference detected!
Wikia is a free-to-use site that makes money from advertising. We have a modified experience for viewers using ad blockers

Wikia is not accessible if you've made further modifications. Remove the custom ad blocker rule(s) and the page will load as expected.