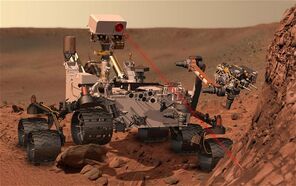 MESA was founded in 2014 it was very small back then but had a few members and worked with the Iranian Space Agency mostly.They have launched various sattalites and worked with the Iranian Space Agency to make a Military Sattalite with a Laser on it sort of ones like Iranian Corvettes that will blind the drone and this new technology can shoot down other sattalites if they are spying.MESA Currently has the largest telescope in the world which is in India in the himilayas in its laboratorys.It has it's HQ's in Tehran and launches Shuttles and Sattalites in Iran most of them.
Landing on Moon: completed
Space Station: Completed
Advanced Sattalites: Completed
Unmanned mission to Mars: (ongoing)
Sattalites,etc
Edit
Sattalites: Gujarat-23 Civilian Sattalite,Omid II Civilian Sattalite,Satar-1512 MESA.
Kachan-230 MESA,Arian-32 Military Sattalite. Rovers: Farvod Moon Rover,Kiana. Shuttle: Simurgh-SLV (On a mission),Shabab-132.
Members:
Iran,India,Turkey,Afghanistan,Azerbaijan,Turkmenistan,Kazakhstan,Pakistan,Jordan,Lebanon,Syria,
HQ: Tehran,Iran
Main Laboratory: Gorgan,Iran
Ad blocker interference detected!
Wikia is a free-to-use site that makes money from advertising. We have a modified experience for viewers using ad blockers

Wikia is not accessible if you've made further modifications. Remove the custom ad blocker rule(s) and the page will load as expected.