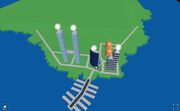 A Small, but growing city located on the northeastern side of brazil. Merzona was established in 1900 by the founding fathers of Nuovo Imperio Romano.
Established in the 1900's By Llono Franco, Merzona is a flourishing colony with great infrastructures, Enough natural resources to hold The empire for a estimated 120 years. and enough food to sustain itself without buying foreign foods. Tourism also keeps the city at the top knotch for the best beaches.
How it all startedEdit
In the 1900's, a group of fellow government worker's thought about extending our empire. conflict's came over this, but pretty soon it was all settled. they compromised on settling the northeastern side of brazil, since it blooms with everything needed for daily life. 3 giant ship's were sent to explore the place, those people there settled. and started to form the modern-day Merzona.
Form of Government: Democratic
Presidential term: 5 years
Capital: Roma
Religion: Guynopsian
Language: Italian, Spanish
4,000,000 (Growing!)
Constructors: mike804, 1WW2guy, Natedog54
​
Mike804 00:17, October 24, 2011 (UTC)
Ad blocker interference detected!
Wikia is a free-to-use site that makes money from advertising. We have a modified experience for viewers using ad blockers

Wikia is not accessible if you've made further modifications. Remove the custom ad blocker rule(s) and the page will load as expected.