La Poste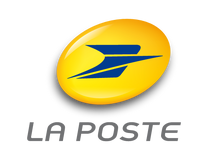 Creation:  1576 as Offices de Messager Royaux
Motto:  La Poste avance, la confiance se developpe
Type:  Mail Company
Region Served:  Europe
President:  Philippe Wahl
Vice-President:  Martin Foch
Services:  Letter Post, Parcel Service, EMS, Delivery, Freight, Logistics
Website:  www.laposte.fr
La Poste is the mail service of France, which also operates postal services in the French Overseas Departments and most of Europe.
La Poste postage stamps are valid for use in the Overseas Departments, but not in the Territorial Collectivities, which issue their own stamps, separate from metropolitan France.
It also operates the postal service in Monaco, while in Andorra, it operates postal services alongside those of Spain.
Ad blocker interference detected!
Wikia is a free-to-use site that makes money from advertising. We have a modified experience for viewers using ad blockers

Wikia is not accessible if you've made further modifications. Remove the custom ad blocker rule(s) and the page will load as expected.