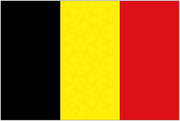 Belgium,
officially known as the
Kingdom of Belgium,
is a country comprised of mainland
Belgium
,
Belgian Congo
, and
Santo Tomás
.
Belgium
has a population of 16,294,469 citizens and a GDP of $620.59 billion with a per capita income of 50,677. The currency of
Belgium
is the
Belgian Franc.
Belgium is a federal parliamentary constitutional monarchy that consists of a Federal Parliament with a Senate and Chamber of Representatives located in Western Europe with a highly-developed economy. The current head-of-state of Belgium is Queen Océane, and the current Prime Minister is Maarten Pierre.
Belgium's capital and most populous city is Brussels.
Government of Belgium
Edit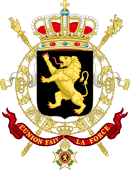 Belgium
has a Federal Parliament with an upper house, known as the Senate, and the lower house, which is known as the Chamber of Represenatives which are all headquarted in the "Palace of the Nation."
Queen of the Belgians:  Océane Marie Hélène
Prime Minister: Maarten Pierre
Deputy Prime Minister: Annemie Turtelboom
President of Senate: Annie-Marie Lizin
President of Chamber of Representatives: Bart de Wever
Belgian Royal Family
Edit
The Belgian Royal Family or Monarchy of Belgium is a constitutional and especially popular monarchy. It was established in 1830 after Belgium gained independence from the Netherlands, and has prevailed through good times and bad. Currently, the Belgian Royal Family is facing an attempted rebellion by the political party known as the "New Flemish Alliance."

Queen of the Belgians: Océane Marie Hélène
Duke of Brabant: Gabriel Baudouin Charles Marie
Prince of Belgium: Phillipe François Marie II
Princess of Belgium: Astrid Mendalo
Prince of Belgium: Laurent Marie de Belgique
Prince of Belgium, Archduke of Austria-Este: Joachim Armadeo Marcus d'Aviano
Princess of Belgium, Archduchess of Austria-Este: Charlette d'Aviano
Prince of Belgium, Archduke of Austria-Este: Lorenz Joachim d'Aviano
Belgian Armed Forces
Edit
The Belgian Armed Forces is the national military of Belgium. The Belgian Armed Forces consists of a
Land Component, a Air Component, a Naval Component, and a Medical Component with a total number of 50,698 active personnel and 90,898 in reserve. It is responsible for the well-being and defense of Belgium as well as her overseas territories. The current Commander-in-Chief is Queen Océane.
Belgian Land Component
Edit
The Belgian Land Componet is the land-based branch of the Belgian Armed Forces. It has an estimated 16,000 military personnel.
Land Component Vehicles:
61 Leopard 1A5s (Main Battle Tanks)
364 AIVs (Armored Fighting Vehicle)
82 Pandur Is (Armored Personnel Carrier)
460 MPPVs (Infantry Mobility Vehicle)
Unarmored Vehicles:
890 Iveco LMVs (Light Utility Vehicle)
94 M-Gators (Light Utility Vehice)
2084 Iltis' (Light Utility Vehicle)
Belgian Air Component
Edit
WIP
Ad blocker interference detected!
Wikia is a free-to-use site that makes money from advertising. We have a modified experience for viewers using ad blockers

Wikia is not accessible if you've made further modifications. Remove the custom ad blocker rule(s) and the page will load as expected.