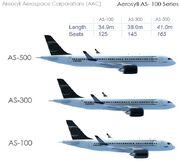 FEB 28, 2035 - Japan's leading aviation company, Aerosyll is currently in development is the brand new Aerosyll AS-100 Jet Sires. This jet provides the latest of technologies, and is capable of carrying 125 to 165 passengers for medium to short haul routes. It has large cockpit windows, an LED touchscreen information display showing all airplane information, an HUD display, and an improved high tech computer controlled fly-by wire. With passengers, there are large windows, and an advanced humidity and climate control sensors. This plane is capable of flying at an altitude of 1,700 to 2,000 feet instead of 2,500 feet, quietly and with with low emissions with an improved all electric lithium-ion battery. 
Major Operators: Japan Airlines (JAL), All Nippon Airways (ANA)
First Flight: EoEP Date (Real Life Date: April 18, 2014)
Text.
FEB 26, 2035 - University of Tokyo undergoes an investigation to find a safer, more efficien,t alternative power
FED 28, 2035 - The University of Tokyo requests a worldwide project for an alternative power.
Universities participating in research:
Peking University (Republic of Eastern China)
University of Córdoba (Union of Iberia and Colonies)
University of New York (American Union - North Atlantic Republic)
Almaty Technological University (Kazakhstan)
​Technology
Edit
Text.
Ad blocker interference detected!
Wikia is a free-to-use site that makes money from advertising. We have a modified experience for viewers using ad blockers

Wikia is not accessible if you've made further modifications. Remove the custom ad blocker rule(s) and the page will load as expected.