A Company in Cambodia which deals with Constuction, Angkor Cars, Real Estate, Animal Farms, and Restraunts. Founded on June 1997 by Seang Chan Heng in Takhimao City in Kandal Province in the state of Cambodia in IndoChina .
Hen Development Co. LTD
Motto:
"We Provide For You With All Green World"
Headquarters:Takhmao City in Kandal Province, Cambodia
'Founded:' June, 1997              '         
Served Area: IndoChina, India, Texas, Madagascar. Washington, Hong Kong. Angola, Argentina
 Industry: Construction, Angkor Cars, Real Estate, Animal Farms, Restraunts
  CEO   Seang Chan Heng
Construction Projects
Edit
Angkor Car
Edit
The battery powered 'Angkor EV 2036' can travel 300 kilometers without charging at a maximum speed of 60 km/h, and can be recharged in 3 hours only. The car is intended for use on IndoChinese domestic Market, for an estimated price of 7,000 USD.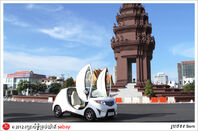 Real Estate
Edit
Animal Farms
Edit
Restraunts
Edit
Ad blocker interference detected!
Wikia is a free-to-use site that makes money from advertising. We have a modified experience for viewers using ad blockers

Wikia is not accessible if you've made further modifications. Remove the custom ad blocker rule(s) and the page will load as expected.