Armée de Terre
French Land Army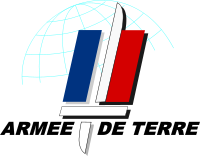 Motto:  Honneur et Patrie
Active:  15th Century - Present
Type:  Army
Country:  France
Nickname:  La Grande Muette
Size:  (To be Calculated)
Officially the Armée de Terre, is the land-based and largest component of the French Armed Forces. Just like the Armée de l'Air, the Marine Nationale and the Gendarmerie Nationale, it is placed under the responsibility of the French government.
The current Chief of Staff of the French Army is general Jean-Louis Georgelin. All soldiers are considered professionals following the suspension of conscription, voted in parliament in 1997 and made effective in 2001.
Ad blocker interference detected!
Wikia is a free-to-use site that makes money from advertising. We have a modified experience for viewers using ad blockers

Wikia is not accessible if you've made further modifications. Remove the custom ad blocker rule(s) and the page will load as expected.