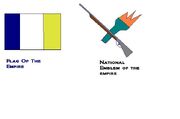 Write the first paragraph of your page here.
Real Name:Zwycorithzc Greand Federalycz Empyre
Languange:[OFFICIAL]Grelish[UNOFFICIAL]Polish
Population:309.298.101
Goverment Shape:Federal Empire
Religion:60%Protestant,40%Catholic
Status:Peace
The Greand Empire was a Powerful Empire in the Old Time Until War Broken And Civilian's Trying to hide Now the Greand Population Is Become More Few Until The Status of Peace in Greand Was Made Civilian Starting to Come to Greand to find shelter and hope...
Ad blocker interference detected!
Wikia is a free-to-use site that makes money from advertising. We have a modified experience for viewers using ad blockers

Wikia is not accessible if you've made further modifications. Remove the custom ad blocker rule(s) and the page will load as expected.