Central European Defense Pact/Centraal Europees Pact Defensie/Central European Defense Pakt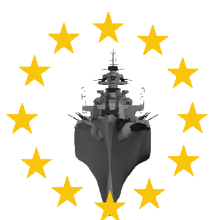 The Central European Defense Pact is a pact of defense with members across Central and Western Europe. It is headquartered in Amsterdam, The Netherlands. The pact started on the 4th of Feburaury 2033 with 3 members.
Much of the pact is Socialist and Democratic, although any government type is welcomed.
The pact agrees to defend other members if required, and may be called to group operations, most of which are optional for the nation as to how many troops are sent.
The pact currently has a defense force that's one of the most advanced on the planet. This comprises of a navy consisting of:
8 frigates
3 Offshore patrol vessels
2 Patrol vessels
11 Minehunters
2 support ships
2 landing platform docks
4 submarines
1 Aircraft Carrier
An army consisting of:
45,000 Active Soldiers
15,000 Vehicles
60 Artillery Units
An air force consisting of:
Ad blocker interference detected!
Wikia is a free-to-use site that makes money from advertising. We have a modified experience for viewers using ad blockers

Wikia is not accessible if you've made further modifications. Remove the custom ad blocker rule(s) and the page will load as expected.