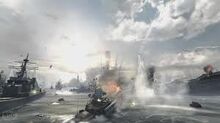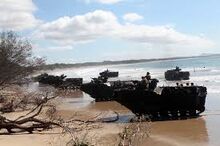 Battle of the liberation of Fascist Crete
Edit
Background
Edit
After gaining the position of Chancellor in the old Trade Republic of Crete, Mantrakis used a fanatical fascist party member to assassinate Doge Gujoi. Soon after crackdowns on political opponents the Republic party fled to California to ask military help. After the Southern German Coalition offered to house the party they moved to a city in the SGC from where they lead Cretan forces in battle.
Belligerents
Edit
Pro-Republic Crete; Anti-Republic Crete;
Crete Republic Remnant Facist Crete party
Republic of California
Argentina
South German Coalition
California:6,897
Argentina:8,678
CRR:8,987
Fascist Crete Party:10,567
After Weeks of fighting Fascist Crete surrenders to the allied forces and the Crete Republic remnant re-enters lerapetra. Fascist leader Manatrakis escaped before the surrender to Asia. Years later he was arrested in Thailand and sentenced to life imprisonment.
Ad blocker interference detected!
Wikia is a free-to-use site that makes money from advertising. We have a modified experience for viewers using ad blockers

Wikia is not accessible if you've made further modifications. Remove the custom ad blocker rule(s) and the page will load as expected.