This is a page about Aristocratic State of Jinasus. For other uses of the name, see China (Disambiguation) or Greater China (Disambiguation).
This article is a stub. You can help Universal Mini Builders Wiki by expanding it. (03:47, September 30, 2014 (UTC))

A relatively new nation that formed over the eastern seaboard of China, based to the past city of Shanghai.
Founded several years after Li Gao got its independence from China, The government has no religous ties and used to be in a state of isolation with minimal trade.
This country is based on fast moving attack troops such as tanks or mechanized infantry. It has decent but smallish air force so they use anti-air weapons to cover weaknesses. Standard infantry are used in defense or in rough terrain. Most of its airforce are unmanned drones. Its naval forces are usually near the capital city. It holds a medium number of nuclear weapons.
-VVZBR -Canada -Auronitia
Relationships
Edit
-War with Karkland
Government
Edit
Political-Aristocracy Economical-Planned
Population
Edit
About 13,140,000
Light history
Edit
Settlements
Edit
--Paracel City [not built] [Colony/Village]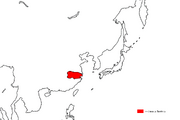 Oversea territories
Edit
--Paracel Islands.
Ad blocker interference detected!
Wikia is a free-to-use site that makes money from advertising. We have a modified experience for viewers using ad blockers

Wikia is not accessible if you've made further modifications. Remove the custom ad blocker rule(s) and the page will load as expected.