This is the Military of Argentina, It is divided into 3 Branches, not including the Gendarmeria.Details Below:
THIS PAGE IS HIGHLY OUTDATED.
Argentine Army(Ejercito Argentino)
Edit
Structure:
Edit
The Army is headed by a Chief of General Staff directly appointed by the President. The current Chief of the General Staff (since 2031) is General Luis Alberto Pozzi. The General Staff of the Army (Estado Mayor General del Ejército) includes the Chief of Staff, a Deputy Chief of the General Staff and the heads of the General Staff's six departments (Jefaturas). The current departments of the General Staff (known also by their Roman numerals) are: Personnel (Jefatura I - Personal) Informations (Jefatura II - Inteligencia) Operations (Jefatura III - Operaciones) Logistic (Jefatura IV - Material) Finance (Jefatura V - Finanzas) Welfare (Jefatura VI - Bienestar)
Equipment,Vehicles,Personnel:
Edit
Personnel:
Edit
Active Personnel: 700.000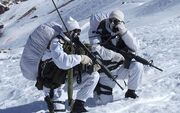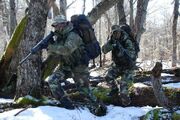 Reservists: 1.700.500
Equipment and Vehicles:
Edit
444 Tanks (Tanque Argentino Mediano and Tanque Argentino Pesado (TAP))
1006 Armored Vehicles
774 Artillery Pieces
159 Self-Propelled Artillery
8,573 Military Vehicles
50 Helicopters
The mission of the Argentine Army is the following:
Protection of Sovereignty
Capacity of Self-Determination
National Integrity
Protection of Natural Resources
Protection of Goods,Life and Freedom of the population.
Helping keeping the Republican,Federal and Representative System
Airforce of Argentina (Fuerza Aerea Argentina)
Edit
The Airforce is the Air branch of the Military (Details Below)
Contributing National Defense acting effectively in the airspace of interest, protecting the vital interests of the Nation.
Personnel:
Edit
Personnel: 87,000
Equipment
Edit
171 Fixed Wing Aircraft
60 Helicopters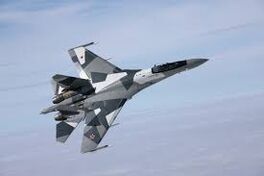 45 Jets (20 In Aircraft Carrier)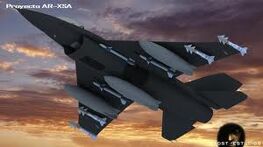 120 Trainers
20 Unmanned Air Vehicles.
15 Air Transport Planes (C-130,Fokker)
Internet
Edit
fuerzaaerea.mil.ar
Train and support the means of naval power of the nation, to contribute to their effective use in the context of joint military planning and consequently the effective implementation of the tasks assigned to the military instrument of national defense
Personnel:
Edit
90,261
Equipment:
Edit
Destroyers:18 (6 Almirante Brown Class, 12 Parana Class)
Frigates: 37 (21 Espora Class, 16 Rio Gallegos Class)
Minelayers: 7
Minesweepers: 13
Fast Attack Craft: 50
Corvettes: 16 (15 Calafate Class, 1 San Martin Class Trimaran)
Patrol Boats: 71 (Various Classes)
Aux. Ships: 100
Aircraft Carriers: 1 Helicopters: 25

Jets:10
Submarines: 15 (1 Nuclear)
Marine Infantry:
Edit
Personnel: 39,292
Vehicles: 111
Helicopters: 9
Aircraft: 4
Ships: 122
Gendarmeria Nacional
Edit
Intermediate Force between the Police and Military
Personnel: 72,315
Helicopters: 32
Vehicles: 324
Aircraft: 31
Boats: 64
Ad blocker interference detected!
Wikia is a free-to-use site that makes money from advertising. We have a modified experience for viewers using ad blockers

Wikia is not accessible if you've made further modifications. Remove the custom ad blocker rule(s) and the page will load as expected.