2036 IFA World Cup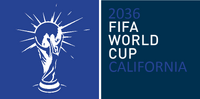 Motto                           All In One Rhythm™
Dates                            12 June - 13 July
Host Country              California
Teams Participating  32
Venue(s)                      8
2038→
The 2036 FIFA World Cup will be the world's first IFA World Cup, an international men's football tournament that is scheduled to take place in Republic of California, and the City State of San Francisco from 12 June to 13 July 2036. California was elected by international football federation, IFA, as a strong bidder that would show great representative for the 2036 IFA World Cup.
The national teams of 32 countries advanced through qualification competitions that began in June 2036 to participate with the host nation California in the final tournament. A total of 64 matches are to be played in six cities across California in either new or redeveloped stadiums, with the tournament beginning with a group stage, with goal-line technology.
Qualifications
Country
Final Draw
Edit
Text.
Venues
IFA Fan Fest
Edit
Text.
Refereeing

Edit
Text.
Text.
Text.
Group Stage
Edit
Text.
Ad blocker interference detected!
Wikia is a free-to-use site that makes money from advertising. We have a modified experience for viewers using ad blockers

Wikia is not accessible if you've made further modifications. Remove the custom ad blocker rule(s) and the page will load as expected.